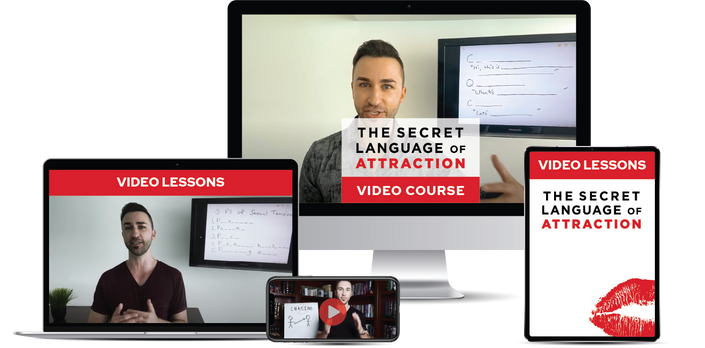 The Language Of Attraction Video Course
Ebook & Videos
EVER WONDER WHAT TO SAY?
Here's the science on how to make women obsessed...
If you want to get really good at talking to girls...
I invite you to check out a program I created called The Language of Attraction.
This is the only system that uses YOUR unique personality to attract women in your conversations and give them the emotional experience they crave.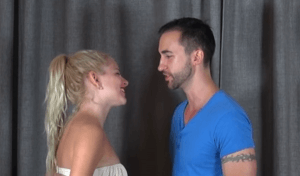 The Language of Attraction makes talking to women simple. Period.
If you're looking to improve this area of your life, this is an excellent place to start.
But you might be wondering...
"What makes the Language of Attraction so unique compared to anything else out there?"
Great question...
What Makes The Language of Attraction So Unique?
Here Are Three Reasons:
#1: Most guys believe they have to force themselves to be like the loud, obnoxious A-type "jerks"...
This usually ends in really awkward interactions.
So The Language of Attraction is designed SPECIFICALLY to work with any personality type… whether you're shy, introverted, "nice" or not super witty… this program can help you get girls interested while still being yourself.
#2: I've personally learned through years of experience, thousands of approaches, and many, many debilitating failures…
And this is what I've discovered: SIMPLE is better.
Most products overwhelm you with waaaaay too much complicated "advice" that can hurt you more than it helps you. That's why The Language of Attraction is based on my REAL experiences and what I've found actually works.
#3: The biggest worry most of my students have is "what do I say next?!"...
So I've created an easy framework you can apply in any social situation that makes knowing what to say simple. It allows more freedom to say what you want, while still following a logical path that leads to attraction.
Here's Exactly What You'll Learn Inside The Program.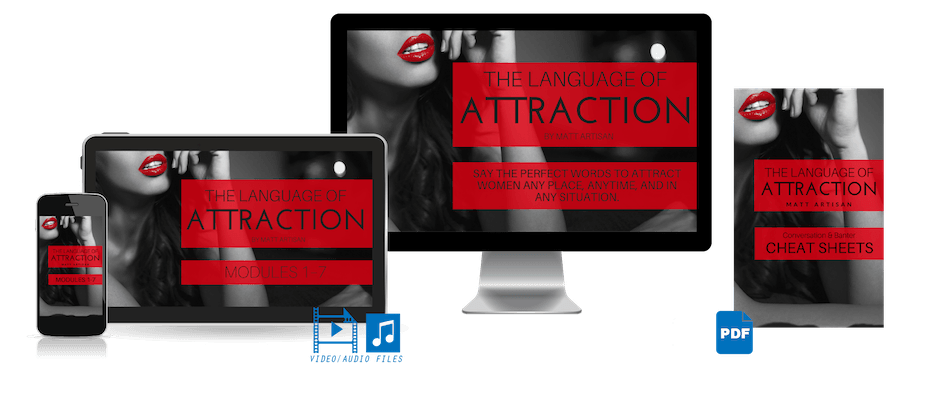 The Language of Attraction is a 7-module video course held online in a private membership area.
Each module tackles a specific area about attracting women through conversation.
Best of all, I'm not just shoving information in your head. I've included a list of action steps with EACH module. So you can focus your energy on improving your skills with real women instead of worrying about how to actually use this stuff.
And even though this isn't about memorizing lines, I know there are some guys who could use a little inspiration to start. So I've included "Cheat Sheets" with each module that have different phrases and one-liners you can use when you're just getting started.
Here's how each module looks…
Module 1: How To Become Fascinating

I'll give you strategies that help you become more interesting to women.

You'll learn:

How to use the "Triple E Secret" to make her feel something for you.
Why she loves the ups and downs of the "Emotional Rollercoaster" and how to be the guy that gives it to her.
How to finally give off that attractive "bad boy" vibe women go crazy for… without acting like one. This works well for typical "nice guys" like me.
---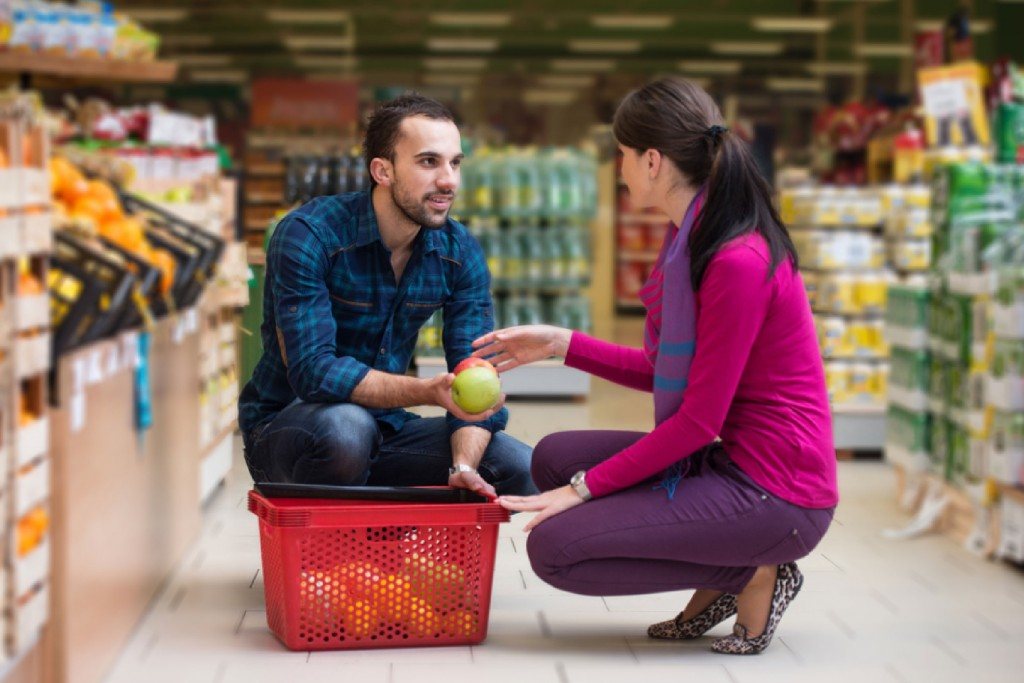 Module 2: Tested Openers That Spark Attraction
I'll give you easy-to-use openers that get your foot in the door. I'll also explain the psychology behind why they work, so you never have to worry if what you're saying is correct or not.
You'll learn:
Why the first impression is CRUCIAL to getting her into you... I'll teach you exactly what to do during this golden window of opportunity.
How to impress her with your newfound sense of social intelligence simply by "acknowledging her reality"... this works almost like a magic trick.
ONE easy mindset shift that makes the fear of rejection not so scary… so you can finally take the pressure off talking to women and just make it enjoyable for you.
---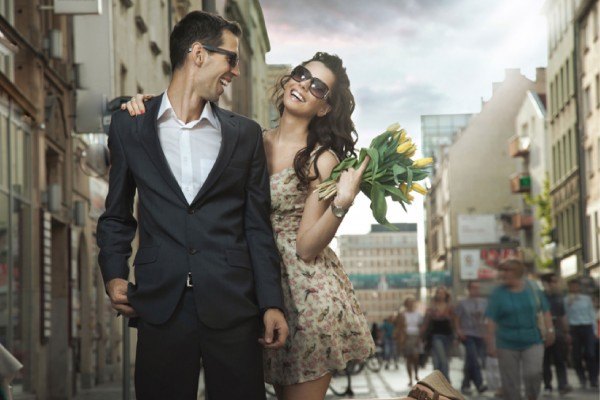 Module 3: Challenging Conversations That Make Her Chase You
I'll teach you the fundamental mindset that "flips the script" and makes women go after you. This is that "paradox" where doing less actually makes them like you more.
You'll learn:
What to say within the first minutes of talking to her.
ONE question you should be asking every woman when you meet her… this will immediately make her see you as a "man" and not just a "friend."
How to reframe yourself as "the prize," so she puts more effort into the interaction.
---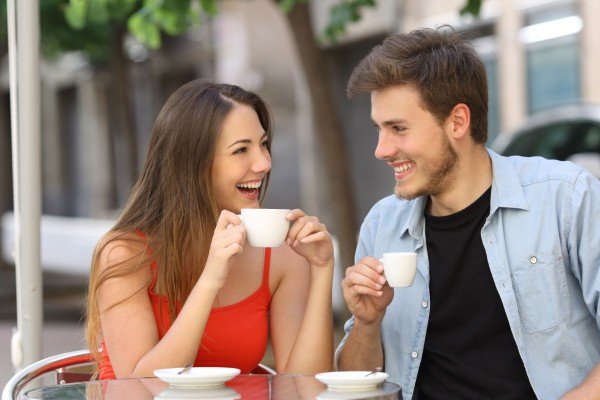 Module 4: Fun Conversations That Make Her Enjoy Being With You
I'll teach you why injecting FUN into your personality is such a turn-on for women. This module is PACKED with methods that help you create a good time... even if you've never thought of yourself as the "fun" guy before.
You'll learn:
How to turn boring conversations into exhilarating ones… knowing how to do this makes you stand out from most of the guys she'll ever meet.
FOUR types of comedy that can unlock your inner comedian, so you'll always have something funny to say to make her smile.
How to be perceived as the ATTRACTIVE fun guy instead of facing the terrible fate most "platonic" fun guys suffer… being put straight into the dreaded friend zone.
---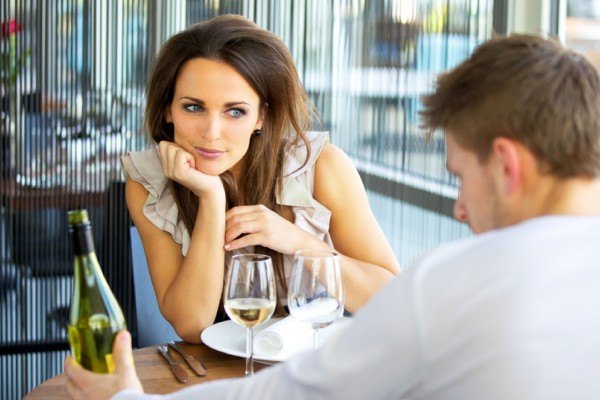 Module 5: Rapport Conversations That Build Deep Connections
In my experience, a woman can't feel attracted to you unless there's a feeling of rapport. So I'll teach you how to establish a connection with her quickly. This can create an effect of feeling like you've known each other for months instead of minutes.
You'll learn:
The one BIGGEST mistake guys make that kills rapport… and the best way to solve it.
How to steer a conversation in any direction you want while she gladly follows along (all it takes is ONE simple word… and I explain the amazing psychology that makes this work).
Advanced technique: The power of Trigger Words and how you can use them to create effortless conversations…
---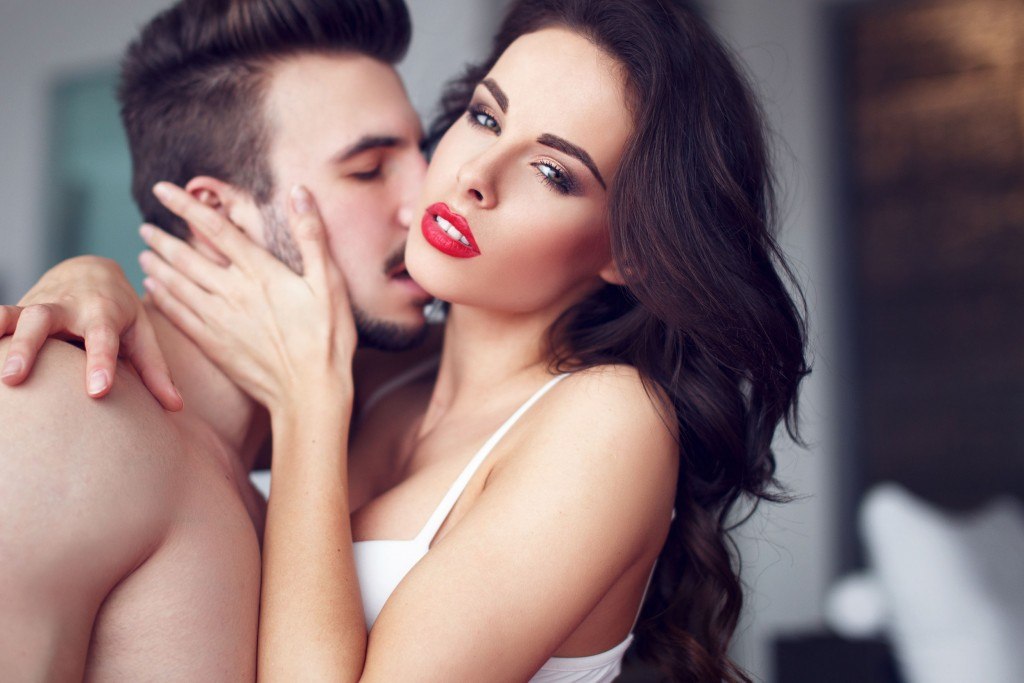 Module 6: The Game Plan From The First Conversation To The Bedroom
This module takes everything you've learned about attraction and lays it out in an "A-to-Z" guide that takes her from conversation to the bedroom.
You'll learn:
Why the simple "CQC" model is a great way to meet women during the day.
How to break free from boring "small talk" and escalate into a conversation that gets her excited.
The perfect two words to handle ANY objection she throws at you… this alone will impress her.
---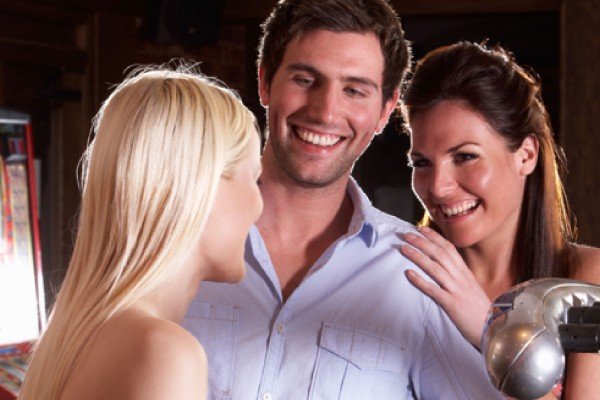 Module 7: Exercises To Make You A Natural Conversationalist
This module takes everything you've learned in the Language of Attraction and gives you really fun exercises that help you PRACTICE your social skills.
You'll learn:
The core idea behind improv and how you can use it to get better at saying cool things without needing to think about it.
Exercises that help you develop an array of emotions women find attractive in conversations.
Exercises you can use if you have a buddy or group of friends who also want to improve their social skills…
---
How Much Does The Language Of Attraction Cost?
Guys pay me upwards of $4,497 to teach them these methods.
In fact, some of my students have told me it's the best investment they've ever made.
They come to me wanting success with women… but when I'm finished with them, they end up getting so much more…
Here are what some of my students have to say...
"I walked around a college campus for an hour. I talked to three good looking girls and went home with two phone numbers. The ability to do this is already inside of you, Matt just helps you pull it out. (*Results may vary.)"
J.P.
Colombia
"I'm so confident now in my approach… I'm talking to women everywhere! And it's not just THAT, my confidence has gotten boosted in other aspects of my life as well. I feel like a new man… seriously. (*Results may vary.)"
Chris Keith
Canada
"Not only do I have incredible confidence, gotten numbers from hot chicks, and significantly decreased my approach anxiety, but I'm confident at work and communicate better. (*Results may vary.)"
K.F.
Austin
It's results like this men happily shell out large amounts of money for…
But I'm not going to charge you thousands for the Language of Attraction...
To make this a no-brainer for you, I've decided to slash the price to something you definitely can't refuse.
But first, can I be 100% honest with you?
I'm not going to try and bend the truth...
This program does NOT have a magic pickup line that automatically makes women crawl into your bed...
This will NOT change your entire personality overnight...
In fact, this program doesn't encourage "sneaky tricks" or manipulation tactics to get what you want…
This is about genuine conversation. REAL mutual attraction.
If you're looking for a quick-fix or intend to deceive women, then please don't buy this course.
This is for men who truly care about women but just want MORE in life.
For men who wish to improve and create permanent, long-lasting change in themselves.
These are the men I commit to serving. So if that's you…
I want to reward you with an incredible offer.
Like I said earlier, my private coaching costs $4,497… and that's for our smallest package.
But today I'll give you the Language of Attraction for a fraction of that…
You won't pay $1,000…
You won't pay $500…
And, you won't even pay $100...
… I'll let you have it for just $50.
Here's My Last Little SURPRISE For You...
You see, the Language of Attraction contains everything you need to improve your skills talking to women…
But I noticed there were three particular skill sets that helped my students achieve the most success… so I decided to create three advanced modules aimed at really helping them master these specific areas.
So you'll be receiving these three advanced bonus modules to take your Language of Attraction to even greater levels.
These are completely exclusive and can't be bought anywhere else.
They are…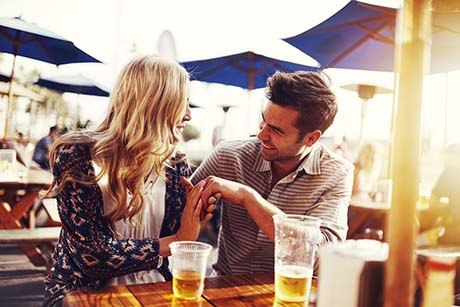 Bonus 1: Escalating The Conversation
This may be the best way to establish yourself as a man she might sleep with. By escalating the conversation, she'll look at you as a potential mate.
You'll learn:
The simple mindset to have during a date if you want to bring her home with you that night.
How to inject an attractive vibe into your conversation and give her the chance to feel aroused… without coming off as creepy.
Specific questions you can ask that create an insane amount of flirty tension and how to carry that tension all the way to the bedroom.
---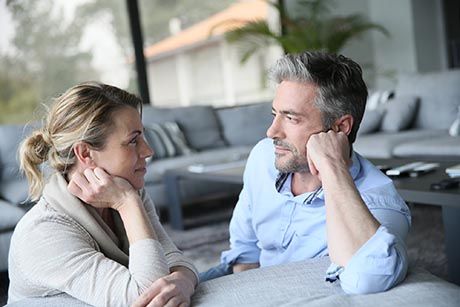 Bonus 2: Never Running Out Of Things To Say
For this, I bring in Executive Dating Coach, Josiah Prise. He'll teach you a really easy system that solves a common problem most guys have: running out of things to say.
You'll learn:
The 3-step process Josiah teaches all his students... so they never run out of things to say.
The most logical conversation structure you can follow to have great social skills with women.
Advanced technique: How to use "Double Binds" to steer the conversation in the direction you wish.
---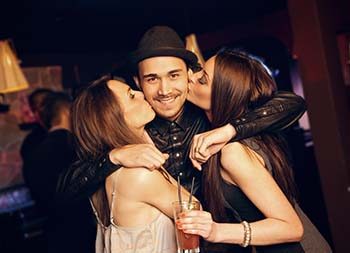 Bonus 3: Talking to Girls At Bars & Clubs
I bring in expert playboy, Jared Lawrence, on how to master the art of talking to women at bars & clubs. This guy is outrageous.
You'll learn:
The #1 thing girls look for when they go out at night and how this helps you.
The 5 phases you must ascend if you want a hot party chick to be attracted to you.
HOW to flirt in the club… something that's completely unknown territory for most guys… which will now become your advantage.
---
Your Instructor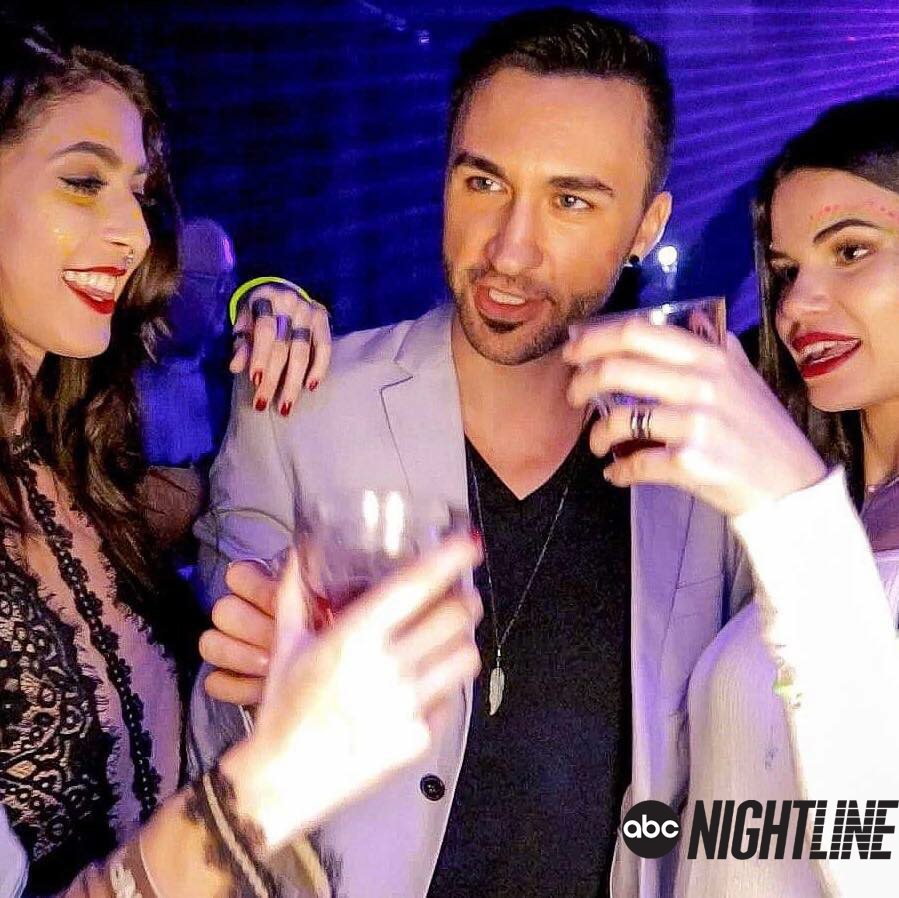 Matt Artisan is the leading expert in transforming the lives of men and empowering them to create authentic relationships. He was voted WORLD's BEST NEW DATING COACH and since 2009 has personally coached men in over 40 different countries.
Frequently Asked Questions
When does the course start and finish?
The course starts now and never ends! It is a completely self-paced online course - you decide when you start and when you finish.
How long do I have access to the course?
How does lifetime access sound? After enrolling, you have unlimited access to this course for as long as you like - across any and all devices you own.
What if I am unhappy with the course?
We would never want you to be unhappy! If you are unsatisfied with your purchase, contact us in the first 30 days and we will give you a full refund.